As is happening across the country, COVID-19 cases are rising in Adair County. There have been 42 cases reported to the Adair County Health Department for the seven-day period from Dec. 6 through 12. That's up from 29 during the last period.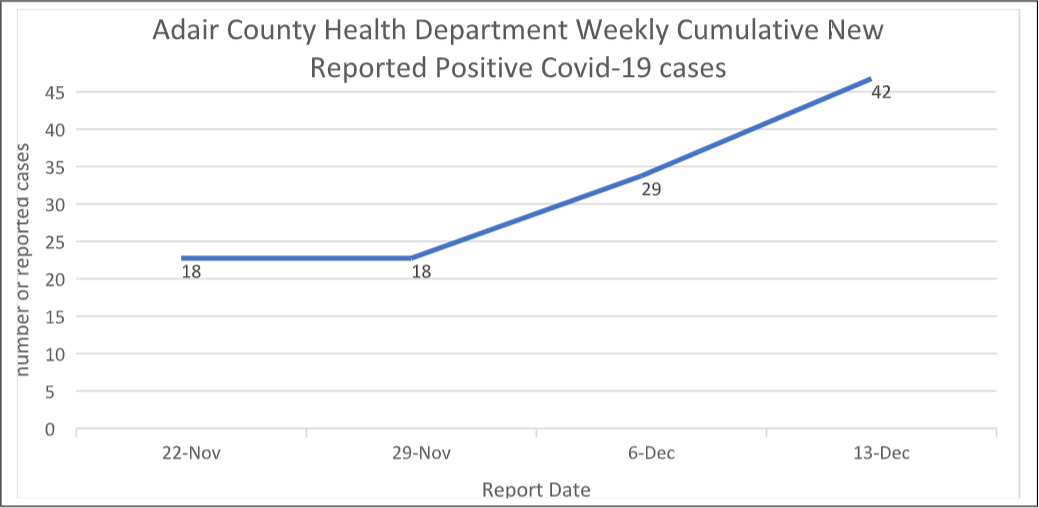 COVID-19 is just one of the respiratory illnesses spreading in Adair County and nationwide. Two strains of influenza, the respiratory syncytial virus (RSV), and the COVID-19 virus are filling hospital beds to capacity in some areas, although hospitalizations continue to be low in Adair County.
Respiratory illness is spread by droplets. To slow the spread of all four of these viruses, the CDC recommends that people consider wearing masks while case numbers are high. Wearing them in crowded indoor spaces and during family holiday gatherings – especially around family members most susceptible to severe disease – may lower the risk of contracting or spreading these illnesses.
Getting vaccinated against the flu and COVID-19 will provide added protection. The Adair County Health Department continues to administer COVID-19 vaccines and bivalent boosters for residents ages 12 and older as long as vaccine supplies last, and the seasonal flu vaccine to those ages three and older. Parents of residents under age 12 should contact their child's doctor or pharmacy about getting COVID-19 vaccines.
To obtain information about slowing the spread of respiratory illnesses or to schedule a COVID-19 or flu vaccine, call the Adair County Health Department at 660-665-8491.